This question is asked by many employees of the Care Agency. There are several ways such as:
Tax optimization
reduction of profits of the Care Agency
increasing the efficiency of the Care Agency
raising family fees
and this last way we will deal with in the following article.
The rate paid by the Care Agency family depends on many factors. The most important of these is the German language level of the potential caregiver. It is worth regularly checking the acquired language skills of people leaving, because with each new order, they are getting better. Thanks to this, at a later time, when choosing a new mentee, caregivers can apply for a place in a host family that requires a better use of German, and thus offers a higher salary in this respect.
In Hrily, you can set a simple filter that will remind the relevant employee to re-verify their language skills without additional clicking.
In the following example, we set the recontact after 180 days, but the value may be different.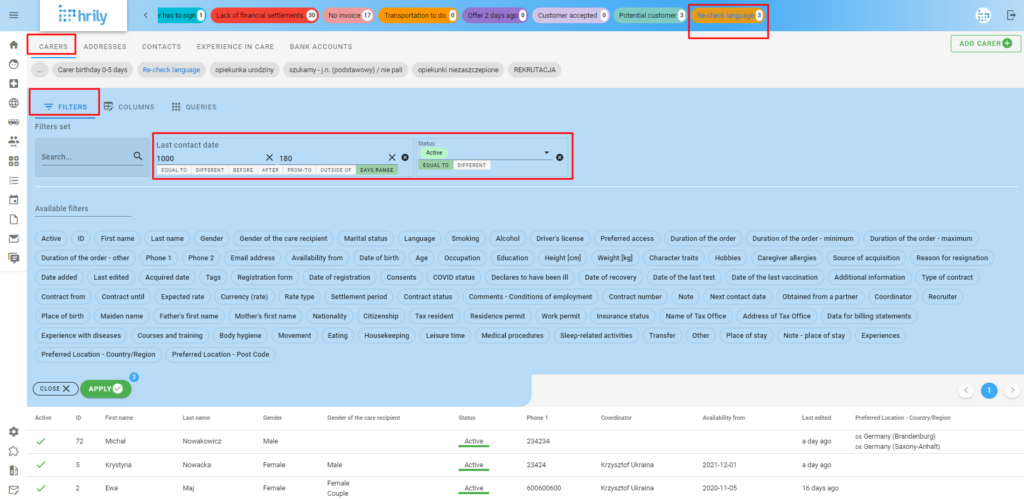 A list of companies that use Hrily can be found here > https://hrily.com
Make an appointment for a demo and learn more ways to optimize your work at the Care Agency and how to offer higher rates to caregivers of the elderly.